Ten(10) romantic words your partner want to hear everyday.Girls should also apply this
There are some words you may feel are insignificant in your relationship but really, their impacts on your relationship can not be over-emphasized. These words do not just help to make your partner feel special every moment but also help to strengthen the relationship. Some of the words are listed below:
I LOVE YOU
Telling your partner you love him or her depicts how much you value your relationship. The combination of those three words has either led to abrupt end in relationship or strengthens many relationships. This is because some partners do feel that hearing the words everyday shows how committed their partners are to the relationship.
YOU LOOK ADORABLE
You should always be proud of you partner every moment and the best way to do this is by constantly telling him or her sweet words. Your partner will feel more appreciated hearing this everyday.
I WILL SUPPORT YOU
It's important to know that there are limits to what ladies can do, hence a need for a helping hand in a relationship. It gladdens the heart of your partner to hear that you'll support his or her course and actualization of some goals. It makes them feel that the love is truly genuine.
I'M HAPPY TO HAVE YOU IN MY LIFE
You can only imagine the beautiful smile that come after saying this sweet words to your partner. It shows how much you cherish every moment you spend together.
TELL ME ABOUT YOUR DAY
It makes your partner feel special when words like these hit his or her ears. It tells how much you care about your partner and how much you care to know if he or she had a bad day or not. Even if your partner does not have a bad day, telling you how they spent their day makes you know them better.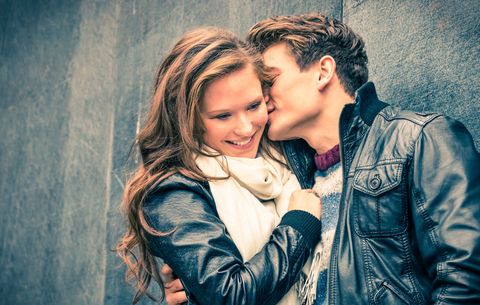 THANK YOU
For every little and significant thing your partner does to you, it means a lot to appreciate every effort that he or she puts in making you smile. Even if it just cleaning your shoes, a "Thank you" means a lot to them.
NOTHING WILL BREAK US APART
Even in the face or turbulent situations and disagreements, it is good to always walk up to your partner and reiterate your commitment to the relationship. It makes him or her feel that you're always by his or her side.
YOUR SMILE MELTS AWAY MY SORROW
As simple as it sounds, your partner appreciate simple and conscious words. Even if he or she does not seem to be in a good mood at that moment, that word alone can make your partner happy again.
YOU'RE MINE FOREVER
You must constantly keep to the sweet promises your relationship started with. You must constantly remind your partner how much your cherish them in your life, and one of the best ways is to let them know that, come rain come sunshine, you'll always find everything about them lovely and sweet.
YOU'RE BEAUTIFUL
When your partner dresses up or you are set to go out on a date, always remind them how beautiful they look. They appreciate it really. In public, tell them the sweet words and await a beautiful smile from your partner's face.