Population Census Field Officers caught Pounding Fufu In Uniforms – Photos
Some serious and hilarious pictures of census field officers have hit the internet as they were caputred pounding fufu for someone in their uniform while on duty.
The said photos have set the internet on fire as many are talking unceasingly.
It is no longer news that the Ghanaian youth have been lamenting to the President Nana Addo Dankwa Akufo-Addo, and his New Patriotic Party (NPP) to provide jobs for them.
But looking at what is happening in the picture below, the President is not in the position to fix the attitude of these guys.
You have been given a specific mandate, go round within a geographical area and collect data from Ghanaians so that the government in return will pay you handsome money for your work but these chose a different job.
For this situation, the guys need to fix their attitude. The Finance Minister, Hon. Ken Ofori Atta said that the government has provided GH¢521 million for this 2021 Population and Housing Census.
Meaning these Officers will receive quite handsome money for their work done. Looking at the picture below, one gentleman is sleeping like a baby behind a poly tank.
Beside him is his book used the recording of information from Ghanaians. He also used his bag as his pillow meaning he is not sleeping in his house after work.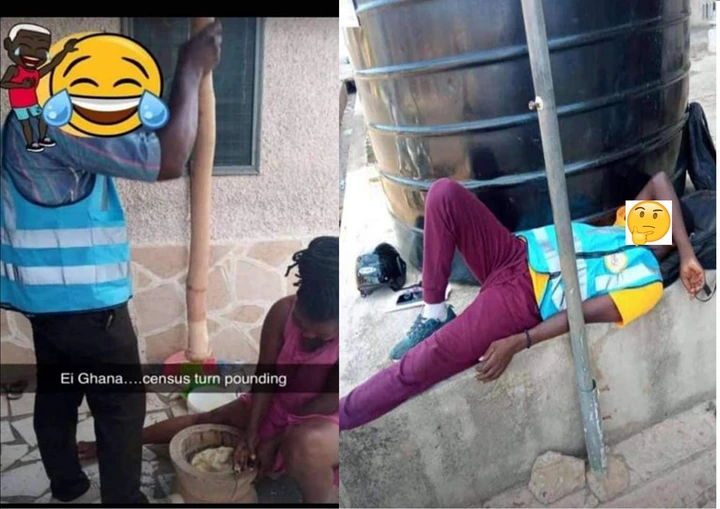 This is called sleeping on the job. Very poor working attitude. He should have taken the 2021 Population and Housing uniform off knowing very well how people can make him unpopular these days with camera phones but instead, he slept with thinking there is no one around.
Read Also;
Man stabs friend to death at funeral for calling him stupid
Men who were welding guns in a viral video arrested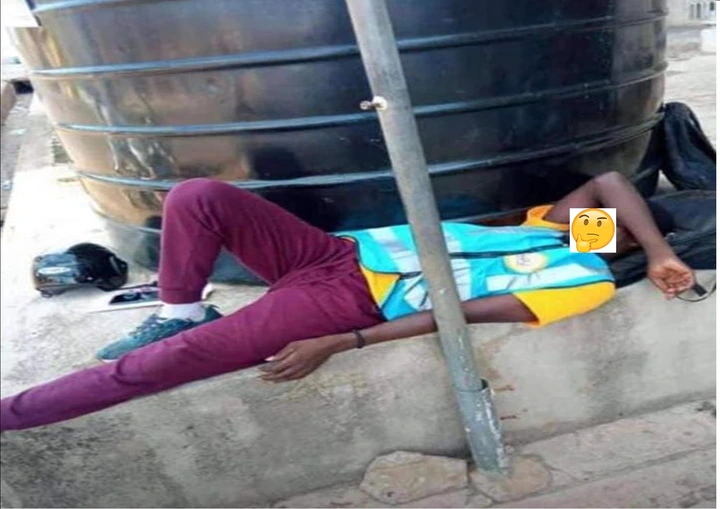 What is happening in this picture? Was he sent to pound fufu and count Ghanaians? This man in 2021 Population and Housing uniform was also captured pounding fufu for a woman. Even if you know her, it doesn't give you the opportunity to pound fufu for her. Your simple task is, get on the field and collect data from Ghanaians so that the government will use it for budget and other developmental planning.
These attitudes of some of the 2021 Population and Housing Field Officers shows that we are likely to get inaccurate data for the programme. This is because some might probably generate some data they have not actually collected.