RELIGION
Pastor carrying coffin in broad day light hits the internet
A pastor has shocked many as he boldly walks on the streets in broad daylight carrying a coffin.
This footage after hitting online has since gone viral, thereby attract much attention and also mixed reactions from social media users.
However, in a viral video that surfaced online, a prophet was spotted on the streets carrying a wooden coffin while he spoke about Nigeria problems. The prophet also spoke about the rulers of the nation.
Read Also;
VIDEO: Meet the rich Ghanaian pastor who owns 120 apartments at East Legon
Popular Ghanaian Pastor caught stealing a corpse from a cemetery
In the viral video, the Prophet said he was carrying the coffin in obedience and he spoke about the presidency up till the local government. He said all the arms of government have become self-centered and selfish.
He said they were no longer doing what was expected of them. The prophet said he was carrying the coffin on his head because God isn't happy with the leadership and the bloodshed in every part of the country.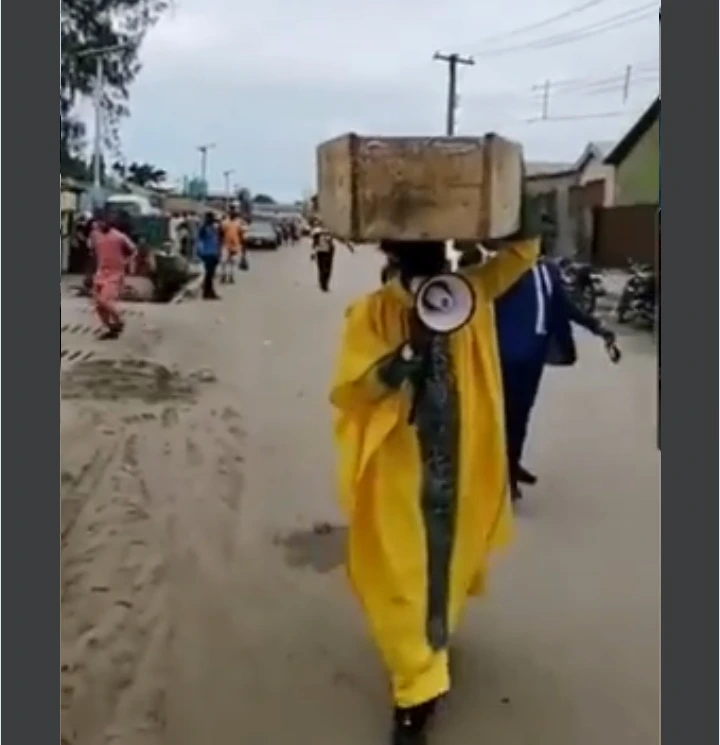 The Prophet said the leadership of the country should listen because the wrath of God will soon descend on those who deprive others of the great resources that the country has.
The prophet said he was directed to carry the coffin, walk on the streets and talk about the leaders because what is meant for everyone is in the custody of a few people.