SPORTS
Meet The "Fake Messi" Who Slept With 23 Ladies By Pretending To Be The Real Lionel Messi
His name is Reza Paratesh an Irabian man who found an unusual feature that could have led him to his success; His facial similarity with Barcelona star striker, Lionel Mesi. It happened that one day his (Reza's) father
gave him a Barcelona shirt and asked him to take a picture with it. The result was marvelous and hilarious at the same time.
Read Also;
'Messi, Ronaldo, Mbappe' – Wenger lists players he missed out on during time as Arsenal boss
Manchester City to enquire about Lionel Messi's availability next month
Barcelona shortlist three mercurial replacements for Lionel Messi
Reza then decided to copy Messi in every possible detail and reportedly slept with twenty-three (23) women with his fake identity.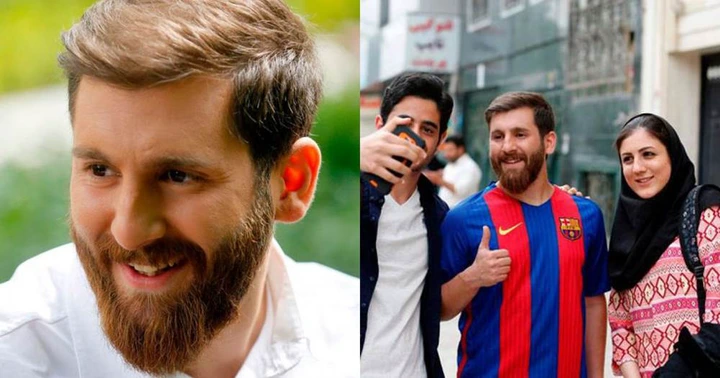 This got him into trouble with the police many times and earned him the nickname "Fake Messi". Because he wanted to look just
like the star (Messi), Parastesh trimmed his hair and grew a beard just to look and live exactly as Messi.
Even though some of the claims against him have been denounced by the police, Reza also took to his Instagram page which has
more than 1Million+ followers to clear all fake air around him. On an interview he was granted recently, Reza said he hoped and dreamed of meeting with the real Lionel Messi one day.
Below are some pictures of Reza Paratesh and Lionel Messi. Check it out and see the difference;