Meet Obour Belling, leader of the gang brandishing guns after the bullion van robbery
Moments after the gruesome killing of a constable with the Ghana Police Service and a woman with others sustaining severe gunshot injuries, a gang of four young men have popped up. The four young men could be seen holding high-grade weapons including pump-action guns and pistols.
Huge sums of money, including GHC 50 bundle denominations could be seen in their possession. Most Ghanaians have called on the Police to arrest these young men and start interrogating them. It has not been established if these young men are connected to the bullion van heist but the timing of their video is making most Ghanaians wonder.
Well, the leader of the four young men with the guns has been identified as Obour Belling. According to posts on his official Facebook wall, Obour Belling lives at Obuasi in the Ashanti Region. Since the year 2021 began, Obour Belling has been making several posts with accompanying pictures of his gang.
Read Also;
Afia Schwar Attacks Ghana Police After Officer Was Shot Dead in Robbery -Video
Bullion van robbery: Police places ¢20k bounty on cop killers
They seem fearless and ready to face anyone who crosses their path. Obour Belling in one of his posts indicated that he communicates with the little voices in his mind and acts upon them by doing cruel things to people.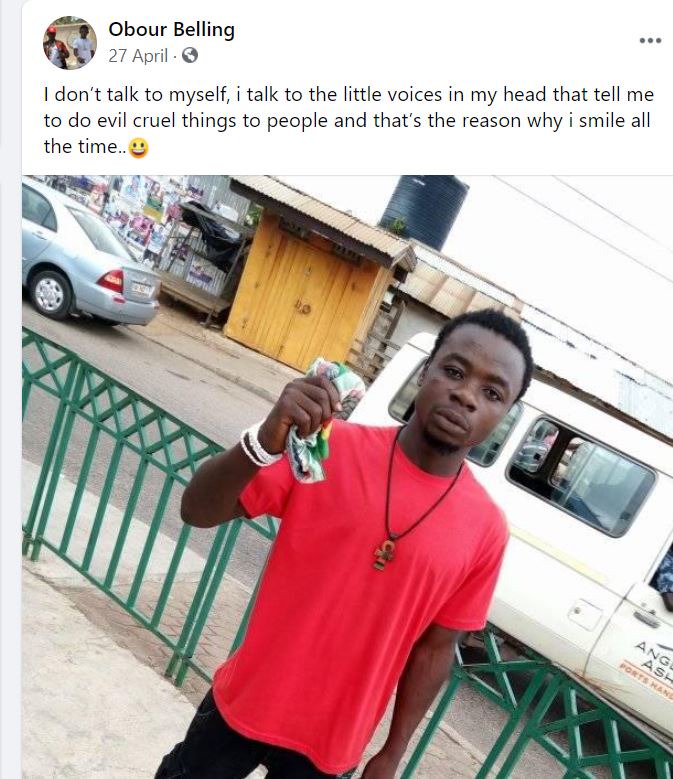 "I don't talk to myself, I talk to the little voices in my head that tell me to do evil cruel things to people and that is the reason why I smile all the time". He made this particular post on April 27, 2021.
In another post on March 15, 2021, Obour Belling indicated that he does not care what people say about him and focuses on what he will do them later. "It does not matter what people say about you. What you are going to do to them later is what matters". He wrote.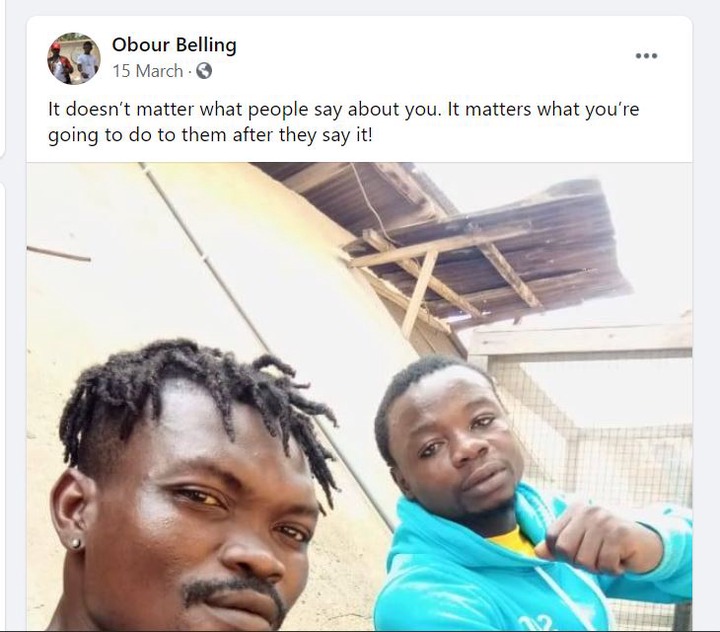 The posts on his Facebook wall show the gang he is leading is ready for any battle ahead. Some Ghanaians alleged that Obour Belling's gang lives in Obuasi and engages in all sorts of robbery activities with impunity. They indicate that the Police have since refused to arrest them and that is giving them the strength to post their weapons on social media.